---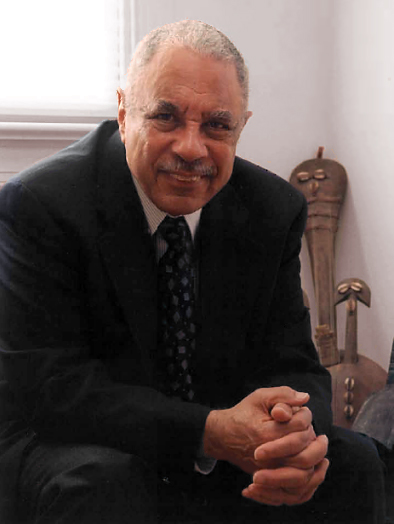 Photo: Andrew Ross

T.J. Anderson is one of the leading composers of his generation. He was born August 17, 1928 in Coatesville, Pennsylvania and received degrees from West Virginia State College, Penn State University, and a Ph.D in Composition from the University of Iowa. He also holds several honorary degrees. After serving as Chairman of the Department of Music at Tufts University for eight years, Thomas Jefferson Anderson became Austin Fletcher Professor of Music and in 1990 became Austin Fletcher Professor of Music Emeritus. He now lives in Atlanta, Georgia where he devotes full time to writing music.

He studied composition with George Ceiga, Philip Bezanson, Richard Hervig, and Darius Milhaud. Anderson is well known for his orchestration of Scott Joplin's opera, Treemonisha which premiered in Atlanta in 1972. His first opera, Soldier Boy, Soldier based on a libretto by Leon Forrest, was commissioned by Indiana University. The opera, Walker was commissioned by the Boston Athenaeum with a libretto by Derek Walcott and Slip Knot, commissioned by the School of Music, Northwestern University is based on a historical paper by T.H. Breen with libretto by Yusef Komunyakaa.


Mark DeVoto, in program notes for a concert of T.J. Anderson's music honoring the 100th year of Tufts University's Department of Music, says: "T.J. Anderson, as all the world knows him, has spent a long and distinguished career composing music reflecting a global awareness of human experience in the twentieth century, synthesizing Eastern and Western classical traditions with the Black experience in America. His works reveal inspiration from a variety of classical styles ranging from Purcell to Alban Berg, and techniques and forms ranging from the serially rigorous to the freely improvisatory, all arrayed in a stylistic panorama that is wholly "his own". Elliott Schwartz states, "Many African-American composers of "classical" music are confronted by a unique set of experiences – influences from two worlds, so to speak. Thomas Jefferson Anderson has successfully balanced both; his music speaks to, and draws from, the heritage of European Art Music and the culture of Black America." (Elliott Schwartz and Barney Childs, ed: Contemporary Composers on Contemporary Music, 1998) "T.J.Anderson has characterized his role as a composer as that of a musical anthropologist, that is a documentor, interpreter, and re-creator of culture" (Greg A. Steinke: International Dictionary of Black Composers, 1999)


T.J. Anderson takes pride in collaborations with his distinguished friends Leon Forrest, writer and Richard Hunt, sculptor. A number of his works have been premiered in the artist's studio. As a lecturer, consultant, and visiting composer, he has appeared in institutions in the United States, Brazil, Germany, France, and Switzerland. He has been a fellow at the MacDowell Colony, Yaddo, Virginia Center for the Arts, the Djerassi Foundation, the National Humanities Center(their first composer), and a scholar-in- residence at the Rockefeller Center for the Creative Arts, Bellagio, Italy. Anderson was singularly honored when Bruce Alfred Thompson devoted his Ph.D. dissertation at Indiana University to an analysis of his works. Other honors include an honorary membership in Phi Beta Kappa, a fellowship from the John Simon Guggenheim Foundation, and a Rockefeller Center Foundation grant, Composer-in- Residence Program (with the Atlanta Symphony Orchestra, Robert Shaw, Conductor). At his 60th birthday celebration at Harvard University, letters from Robert Shaw and Sir Michael Tippett were read. In March, 1997, he was honored as a founder and first president of the National Black Music Caucus with concert of his music. He was elected to the American Academy of Arts and Letters, May 18, 2005.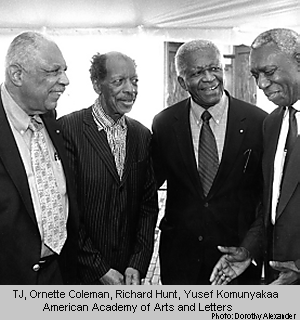 Professor Timothy Breen read the following citation when Anderson received an honorary degree from Northwestern University in 2002: "If music is the universal language, you are a celestial linguist. With artistry, craft and imagination, you translate your understanding of the human experience into melody, reaching our hearts by way of our ears."
Blair Johnston writing in Answers.com said that "He has proven himself one of the best and brightest American musicians of any kind."